I love to learn new techniques when it comes to painting and have been eager to try out the Ralph Lauren Metallic paints sold at Home Depot.
Basically on the shelf you have two options- a silver base or a gold base. You pick the metallic color you want off a chart and then take the coordinating paint can to the mixing counter. Unfortunately our Home Depot doesn't have paint swatches to take home so you are basically looking at at a chart and guessing which color you want. I choose Bronze Statue so I took the gold base can to the paint counter and they mixed in the correct colors.
At our Home Depot a quart size can sells for about $20. Steep price so get your color right!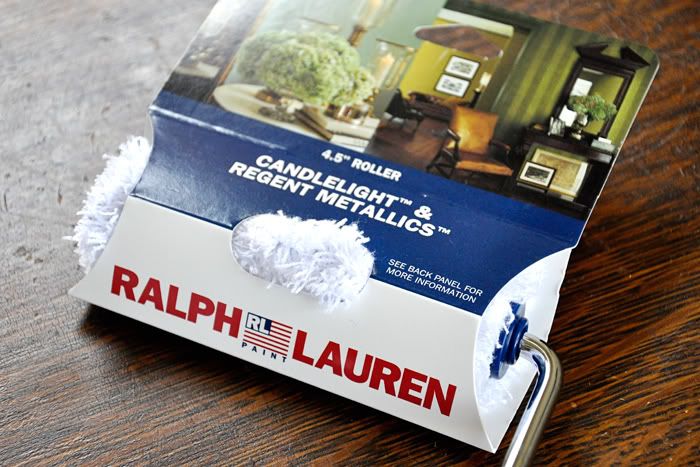 You will also want to purchase the Ralph Lauren Regent Metallics brush roller. To get the "gold leaf" textured look you need to have a very heavily textured roller. It costs about seven dollars but can be washed and re-used.
My supplies above. I use my roller trays again and again. A little tip- just place Saran Wrap inside your paint tray and it peels right out when you are done painting. I discovered a few weeks ago the Press N' Seal Saran Wrap works amazingly well too.
My absolute favorite paint brush above, a one inch slanted Purdy. Oh, how I love this paint brush! I use it with everything. It worked great on this project getting all the little cracks and crevices that the roller missed.
When painting with metallic paint always brush the cracks and corners first. Your brush will leave strokes that differ from the roller texture so brush first and roll second.
I found the metallic paint never looked fully mixed. The color seemed to continuously swirl in the tray even though I thoroughly mixed it in the can.
Also this was a very old piece of furniture with no glossy coating on the wood stain so I did not prime it. I cleaned it well and just went right into painting over the wood. If this were a table we were going to eat on or use often I would definitely prime first.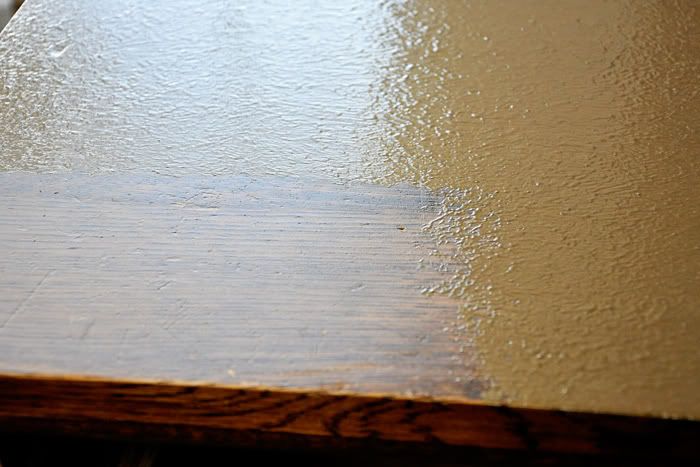 Look at the lovely texture! And the near finished piece below.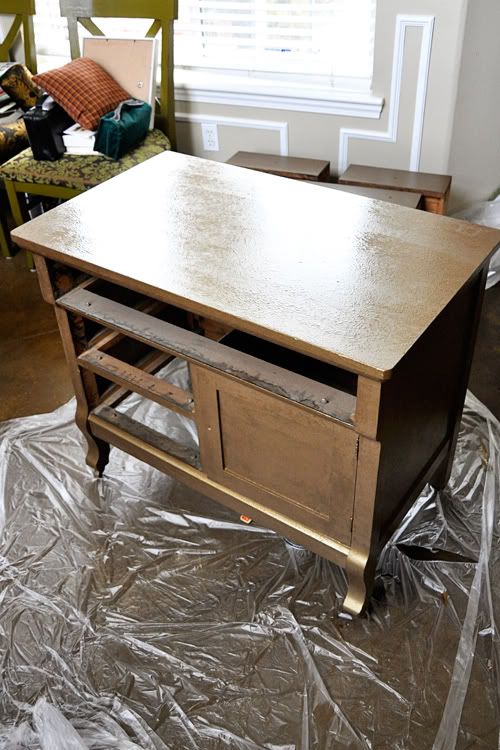 Of course as you know I didn't love this color with my floors so I ended up starting over with a metallic silver. The painting process was the same. Two coats of paint seemed to do it and I love how it turned out.
Now, let's talk seriously.
I have left over gold paint and am thinking it would look fabulous on a wall somewhere…
Pin It