First, thank you for all of your fabulous feedback on my towel storage dilemma! I have decided to go with the towels on the ladder. You convinced me! I will be posting soon on how to prep old wood for such a project. No one wants old wood gunk rubbing off on clean white towels, so I will show how I get the ladder functional.
Second, If you remember not too long ago I made a few changes to our half bath on our main floor.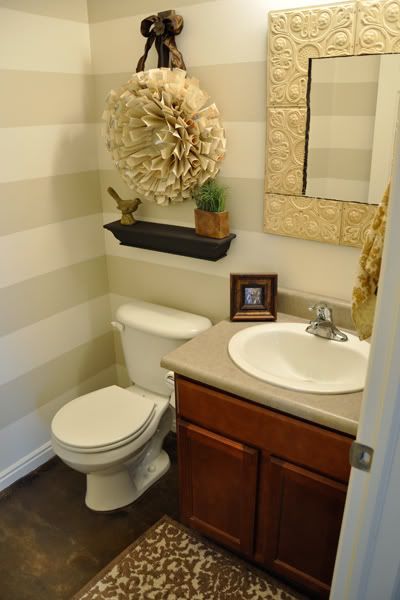 I painted both the mirror and the cabinet. Here's the after:
I loved the changes… until I was at a local antique store and saw a different mirror.
Dang it! I hate it when that happens. So, I once again changed the mirror. Here's how it looks now:
I also updated the light fixture. All by my freakin' self. Booya!
Little changes, but I really love how the new mirror looks.
The old one will probably end up in one of the girls rooms.
Or in my "stuff I loved until I found better stuff pile."
Please tell me you have one too?
No wonder we get along so well.
And finally last but never ever least…
I am repainting my china cabinet from black to aspen white.
'Cause when you have painted everything in your house, it's time to start all over again.
Bahahaha!
Why aren't you laughing?
Stay tuned!
Pin It