I have been neglecting my children.
No, no, they get food and shelter and all that good stuff.
Neglecting them in the art of displaying their pictures in frames kind of way.
I am really good at taking pictures.
I am really good at processing pictures.
Not so good at printing them.
Pictures in frames around here pretty much don't change. Ever.
In fact, I get so many complements on an adorable framed baby picture, I just can't bear to tell people she came with the frame.
And she is very cute.
And my babies are not babies anymore so I am not letting go of this one!!!
Sorry. Didn't mean to yell at ya there.
Anywho, I thought I should come up with a photo display for my favorite pictures. Something I can often change.
First I gathered up my supplies.
Well, I actually first watched the latest four episodes of The Office because you all know you can't go out in public without being caught up on the office, and it was just shameful how behind I was.
Then I went out in public, and found some cool crafty stuff at Hobby Lobby. I picked up some wood embroidery hoops, and itty-bitty clothes pins. Here's my supplies:
Next, I brushed some wood stain on the hoops and clothespins.
Then I glued the clothespins around the hoop frames with a hot glue gun.
Three cheers for hot glue!
Then I pulled out some wire I already had and created a sort of mobile with the hoops.
Next, print the pictures!
Last step, attach the photos!
I love how this turned out! The best part is, I can easily print more photos and swap them out as I take them.
No more random baby photos!
Well, I might need an intervention to get rid of that one. But the rest of the frames will definitely be updated now.
Here's how the finished project looks hanging in my living room window: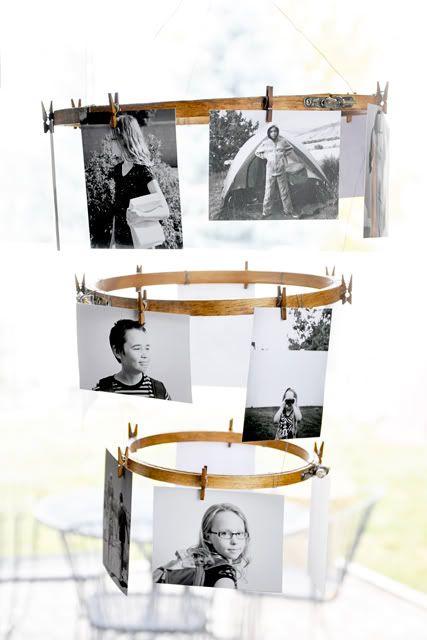 Now I have to run. I need to go hold someone's baby. And possibly take their picture for a certain frame I 'm thinking of.